We're Local!
We are one of the few spring water bottling plants that bottle at the source. This means our spring water does not travel until we bottle it and only then is it transported right to your door. Our bottling plant adheres to the highest standards in the industry. Berkshire Spring Water has been tested and analyzed for fifty years with the same great results. This consistency and quality has helped our small company survive in this increasingly competitive industry.
Our business began in 1970 when the owner of the Old Pike Farm, Dale C. Bosworth, made a decision to bottle the pure natural spring water that rose on his property outside of the small village of Southfield, Massachusetts. This naturally protected source is surrounded by hundreds of acres of undeveloped New England maple and oak forest. The water that came from it produced a crisp and clean taste, repeatedly drawing comments from visitors to Dale's home. The owner soon decided it was worth bottling, at a time when bottled water was rare.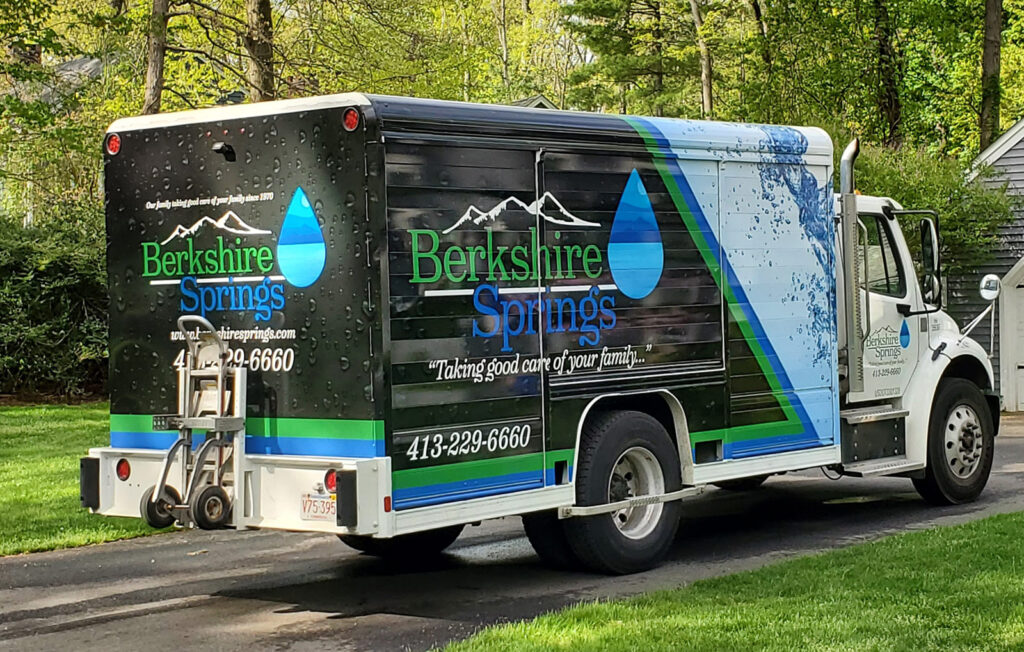 Using state-of-the-art equipment, Berkshire Spring Water is bottled at the source under rigorously controlled conditions.
This company still runs with the same commitment to a high quality product and high quality customer service — the pillars the company was founded on over fifty years ago.
We service an area about 90 miles from the SW corner of MA to include Amherst, Springfield, Hartford, Poughkeepsie, Albany, and Bennington VT. Click here to check your zip code for service.
We are very conscious of our responsibilities as conservator and steward of this prized natural resource. The management of the business is consistently guided by strategies of environmental responsibility, resource stewardship and minimal impact. We have an established recycling program with the plastics and cardboard used in our production.
Our goal is to supply you with the best-tasting, healthy, natural spring water, bottled at the source. Our service is focused on maximizing customer convenience, and never letting you run out of water.