For homes or workplace, dispensers add convenience, style, and sanitation.
Convenience
Piping hot or ice cold water with the push of a button
Easy load—put the bottle on with the cap in place—no spilling
No need to search in the refrigerator!
Style
Black, white, or stainless steel to meet your existing décor
An appliance that fits the kitchen, bedroom, workplace
Sanitation
No one touches the water from its underground aquifer  to your cup or glass
The pushbutton to dispense water- very easy to wipe clean compared to faucets, coffee-makers, and refrigerator doors.
Here's what to do: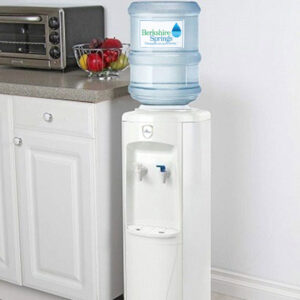 "A" Buy a cooler from us as part of your service
How it works: we sell you your choice of cooler and deliver it with our initial installation of water service… we'll bring it into your home or office, set it up, and ensure it is working with a bottle of our Berkshire Spring water. Each sale comes with a 3 month, all-inclusive guarantee, then we charge a $1.95 per month replacement charge (we will replace your cooler with an equivalent cooler at no cost for as long as you remain our customer).
"B" Get our "Cooler Service" program
For a monthly fee, you get one of our coolers for as long as you remain our customer. Any time there is any issue with the cooler, we simply replace it a no charge. The monthly fee is determined by the type of cooler.
If you own your own cooler now, and you have a cooler problem, call us!
You can then select option "A" or "B" above to replace your broken cooler.
" C" if you already own your own cooler
If you just want spring water service for your home or office
Or contact one of our customer service representatives at (413) 229-6660
.